ADRA WAS A BLESSING FROM GOD FOR ME
"We didn't have money for doctors, medications, or food, and for ADRA to provide all of that to us is a blessing."
Medellín, June 2022 | ADRA Colombia Press.
Amandry and her family lived in the state of Zulia in Venezuela. Due to the economic crisis in their country, the household income was not enough to meet their needs. She says, "I couldn't afford much anymore. If I bought one thing, I couldn't buy something else. Before, I could do a good grocery shopping for my family and my mother, but eventually, it became impossible." For this reason, they decided to migrate to Colombia to improve their quality of life.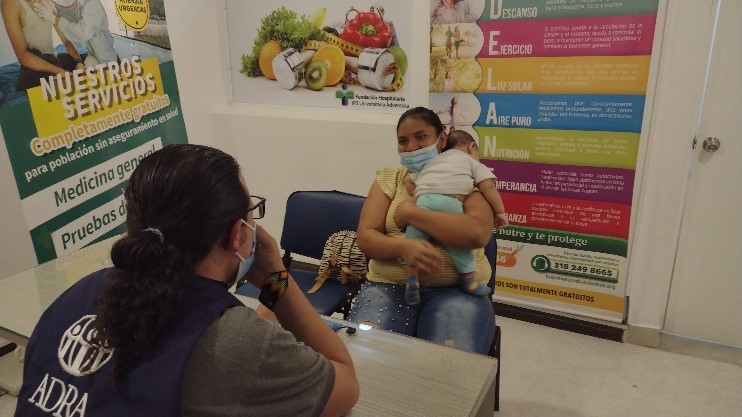 Interview with Amandry Medina, ADRA Medellin, June 2022. [Photograph: ADRA Colombia]
They walked from their home in Venezuela until they reached Maicao in Colombia, where they stayed for a few months. Then they continued their journey on foot and in some trucks along the way to reach Valledupar, where they lived for a year. But their economic conditions did not improve for the family, and they decided to walk to Medellín. Their journey brought many difficulties, and they fell off a moving truck. They realized that receiving medical attention in Colombia would not be easy in their migrant situation.
Their situation in Medellín was very difficult. They needed to find resources for their whole family. With the little they managed to earn from street vending, they paid for their accommodation in some boarding houses. But sometimes, it wasn't enough, and they could only have two meals a day.
Their two younger children, aged three years and five months, needed to be examined by a doctor due to their low weight and poor nutrition. Thanks to a neighbor, Amandry learned about ADRA and reached out to the helpline, where she was invited to participate in the SASVEN project. They received general medical care, tests, medications, and especially vitamins. Their family also benefited from the food assistance provided by ADRA through the cash transfer program for four months. They received nutritional recommendations for their children. Amandry expresses, "The food assistance has meant a lot to us, it brings joy because we faced a lot of need. What we do every day is for our little home, and this help is a tremendous support for food. Thank you very much, really."