ADRA Colombia provides assistance to thousands of Venezuelan immigrants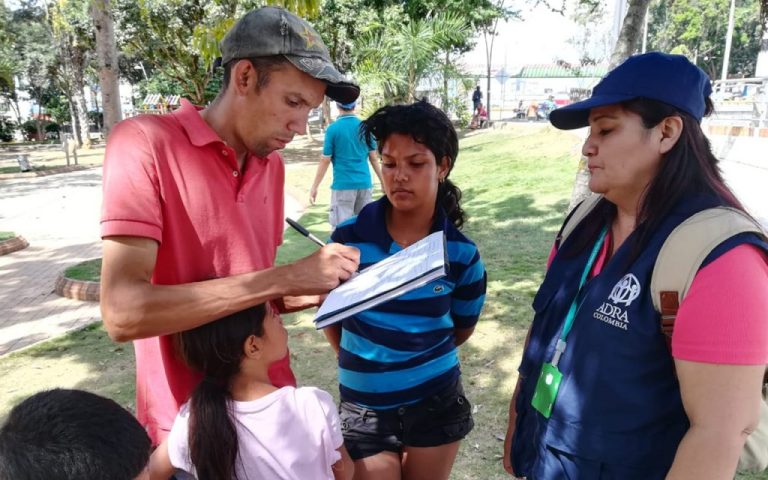 A father who is part of a community of Venezuelan immigrants in Bucaramanga, Colombia, fills out some registration documents that will allow his family to receive medical care, hygiene items, and kitchen utensils provided by a special project led by ADRA Colombia. The twelve-month initiative will offer assistance to thousands of Venezuelan immigrants who have left behind the economic and political turmoil in their home country. [Photograph: ADRA Colombia]
April 10, 2019 | ADRA Colombia Press.
Over the past seven months, the Adventist Development and Relief Agency (ADRA) in Colombia has been providing assistance to thousands of Venezuelan immigrants who have crossed through Colombia's eastern border to escape the economic and political instability in their home country. The project represents assistance of over $2.5 million, the largest ever administered by the Adventist agency in that country, said ADRA Colombia leaders.
According to recent government statistics, there are over 1.1 million Venezuelans who have recently migrated to Colombia from their country, now constituting up to 30 percent of the population mainly concentrated in the border regions with Venezuela. Approximately 23 percent of these immigrants have settled in the capital city of Bogota, and 41 percent are living in irregular or unstable conditions, explained Gabriel Villarreal, director of ADRA Colombia.
"We have noticed this influx of people and we have realized that many of them who arrive in this country without proper documentation cannot access medical care in Colombia for a designated period of time, so we launched a project to provide free medical assistance to thousands of Venezuelans in need," said Director Villarreal.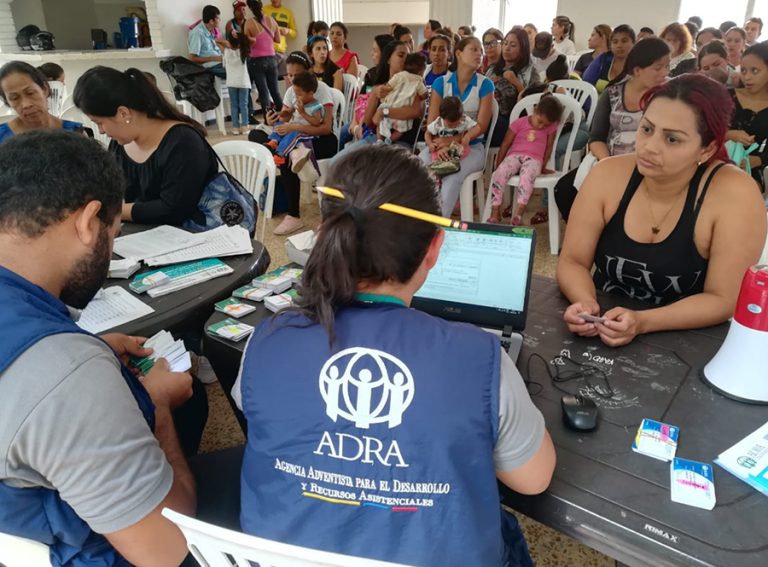 ADRA Colombia staff attends to hundreds of families in the city of Bucaramanga, where thousands of Venezuelans have settled after crossing the border with Venezuela about 200 kilometers away. [Photograph: ADRA Colombia]
So far, ADRA Colombia staff and other volunteers have provided medical consultations to thousands of people in immigrant communities established in the city of Bucaramanga, located about 200 kilometers from the main border crossing with Venezuela in Cucuta, Colombia. These consultations include free medical check-ups, necessary laboratory tests, and medications provided to thousands of families throughout Bucaramanga and Medellin, which is the second-largest city in Colombia, about 390 kilometers west of Bucaramanga.
The medical examinations have been led by two Adventist medical centers in both cities to serve approximately 10,200 people, including 5,000 consultations in Medellin and 5,200 in Bucaramanga.
Each medical team, both in Bucaramanga and Medellin, serves approximately 500 to 600 people per month, thanks to the ADRA staff working in coordination with local and municipal government officials to locate Venezuelan immigrants in need of medical services, explained Director Villarreal.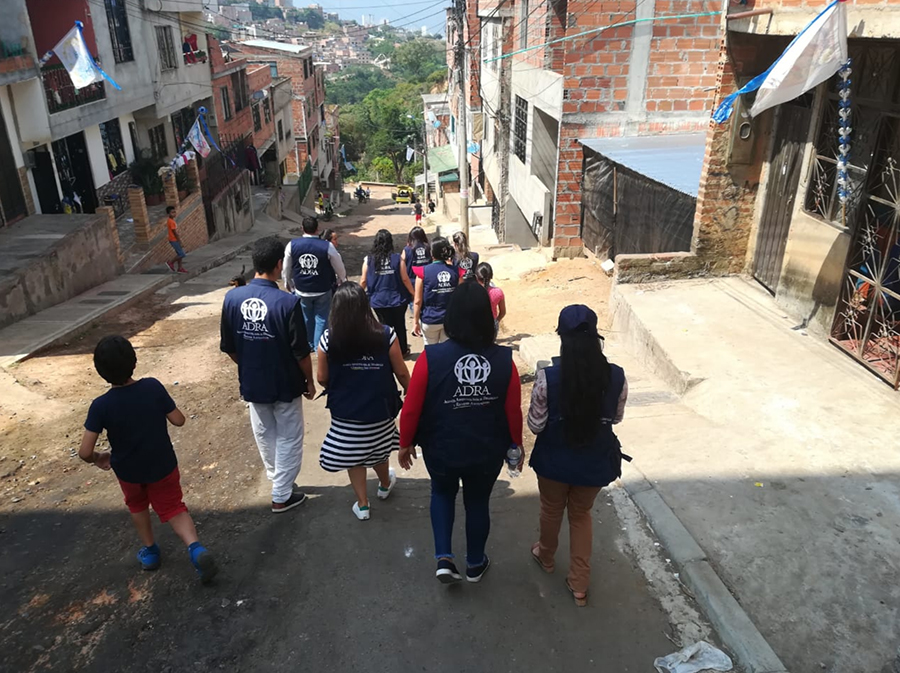 ADRA Colombia social workers enter a community in Bucaramanga, where hundreds of Venezuelan immigrant families have settled. [Photograph: ADRA Colombia]
"Many Venezuelans come to Adventist churches seeking assistance and they are taken through the registration process at community centers or nearby Adventist churches to receive free medical examinations," said Director Villarreal.
In addition to the above, ADRA Colombia, through a generous donor, is providing basic hygiene items, kitchen utensils, and household items, said Director Villarreal.
"When we were making plans to carry out this project, we noticed that Venezuelan immigrants in Bucaramanga had a great need for basic hygiene items and they were sleeping in parks or on the streets, so we knew we had to extend that help," Director Villarreal added.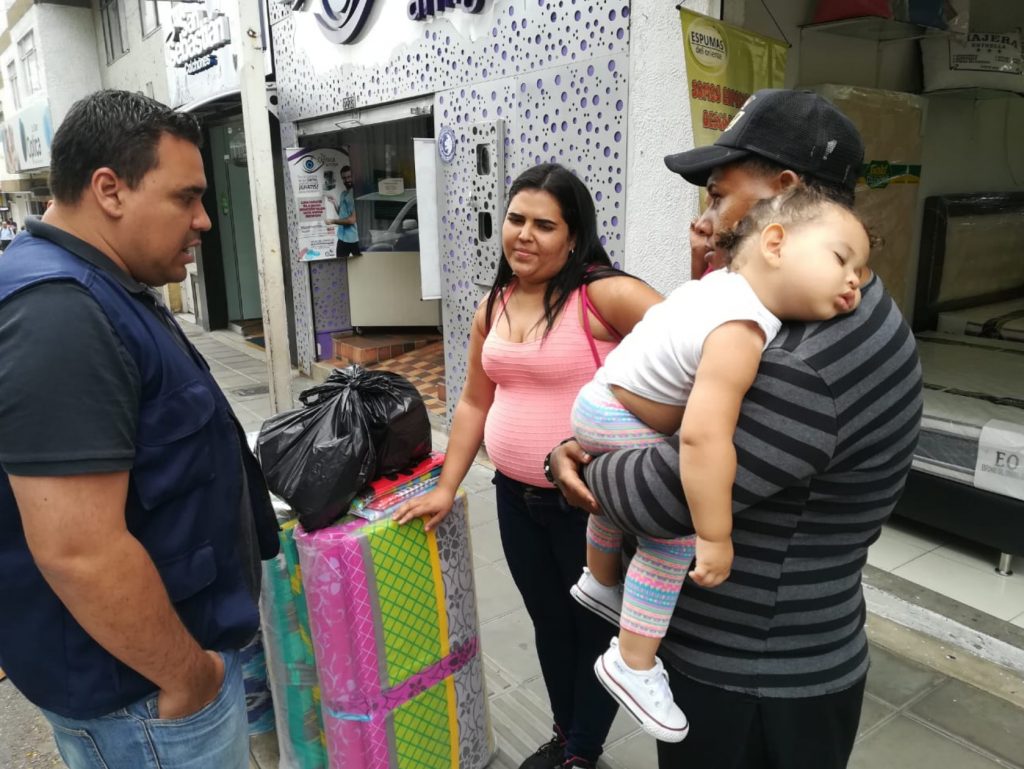 Una pareja venezolana habla con un miembro del personal de ADRA Colombia después de recibir colchones, sábanas y un juego de utensilios de cocina. [Fotografía: ADRA Colombia]
About 2,500 sets of basic hygiene items, 2,500 sets of kitchen utensils including pots, plates, and other utensils, and 2,500 sets of household items including mattresses and sheets have been distributed to date. This assistance has been delivered at a rate of 500 to 600 per month, said Director Villarreal. Additionally, recipients are taught and provided with a pamphlet containing instructions on regular handwashing, safe family planning practices, and other relevant information.
"Some areas of the border with Venezuela have recently been closed, resulting in a decrease in the flow of immigrants. However, many are still walking for kilometers and kilometers in the cold for days, aiming to cross the border into Colombia and enter the country. So, we know that there is a great need for our intervention," said Director Villarreal.
Director Villarreal mentioned that they are already making plans to appeal for another phase of the assistance project beyond the twelve months, after the month of August. "We want to expand the project and help more Venezuelans in their transition from their country to ours, Colombia," he said.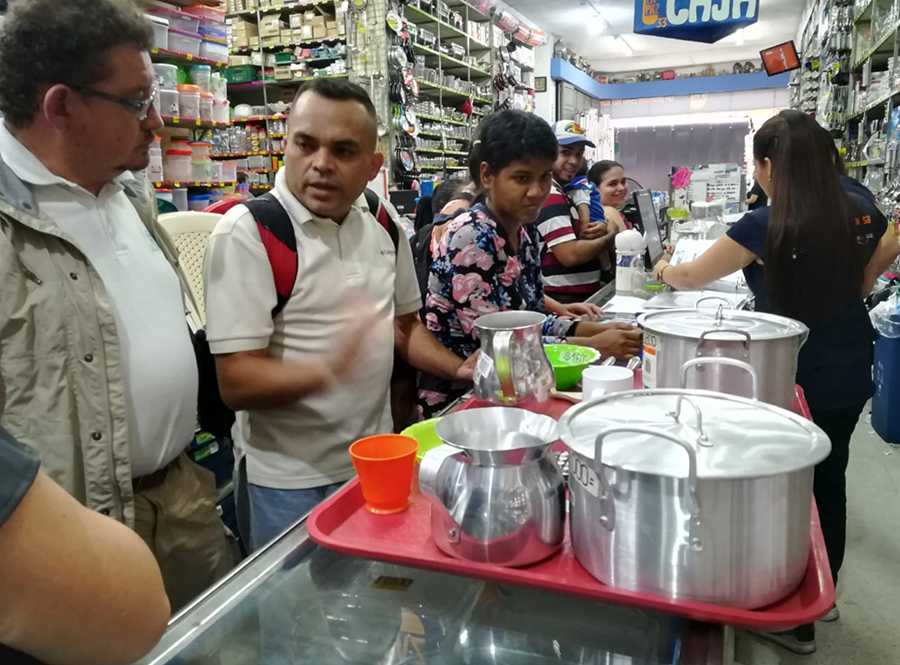 Venezuelan beneficiaries pick up their sets of kitchen utensils at a commercial establishment, accompanied by ADRA Colombia leaders. [Photograph: ADRA Colombia]
ADRA Colombia has also been supporting other projects to assist Venezuelan immigrants settling in Colombia through fundraising campaigns throughout the country.