ONE FAMILY, TWO SUITCASES, LOTS OF OPTIMISM, AND AN ILLUSION
Rosa Maria migrated in search of a better quality of life. She says that thanks to ADRA's health assistance, her family now has peace of mind.
February de 2023 | ADRA Colombia Press.

Rosa and her family's economic situation had worsened in Venezuela due to unemployment. They did not have enough resources to cover the needs of their two children and she was concerned that there was no health care. They decided to migrate to Colombia; they took a bus from Caracas and began their journey through the "trocha" (irregular crossing) to Cúcuta and continued to Bucaramanga.
"When we started the trip I was afraid of the unknown, my children were so young, and at that time, along with my partner and two suitcases full of optimism that accompanied our journey, it was the only thing I brought; I left Venezuela to improve our quality of life, and we had to sell the little we had to come",  said Rosa.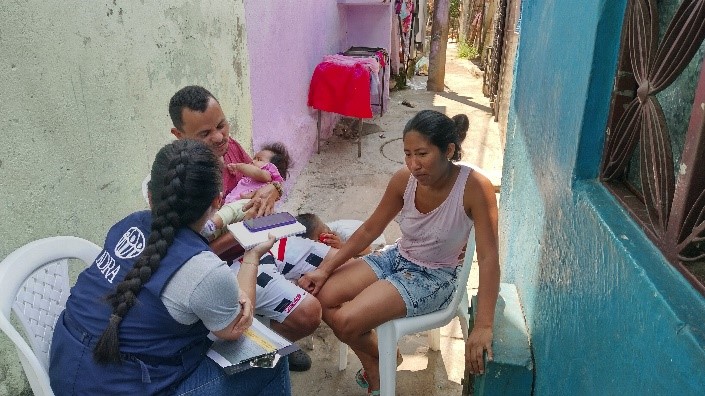 Interview with Rosa, ADRA Bucaramanga, February 2023. [Photograph: ADRA Colombia]
When they arrived in Colombia, they stayed with an acquaintance. Rosa started doing various household chores to earn money. However, her worry increased when her children fell ill, and she would go to pharmacies seeking medication and advice on how to treat the illnesses at home.
Some time later, she became pregnant, and her baby was born. But when her daughter got sick, she went to the hospital, where she received basic care. However, they did not provide her with medication, and she was sent back home with great concern because she had to find the money to buy the medicines, and their economic resources were very limited.
Her current partner had previously heard about ADRA and shared information about the health campaigns they were conducting. Rosa approached ADRA staff and registered herself and her family in the SASVEN project, which is implemented with the support of ADRA International. They quickly attended their first medical consultation.
Her 3-month-old daughter was experiencing respiratory difficulties and skin conditions. Although she was born in Colombia, she has not been able to receive care from a Healthcare Provider Entity (EPS) due to registration issues related to the change in their municipality of residence. Currently, Rosa and her family are beneficiaries of the project and continue to receive medical attention. "Thanks to ADRA, my daughter received timely care and treatment. My other children were also seen by the doctors, and they have been very prompt. I am very happy with the services. I feel content knowing that my children have a place to go if they get sick. Thank you, ADRA."