In Colombia, ADRA continues to help thousands of Venezuelan migrants.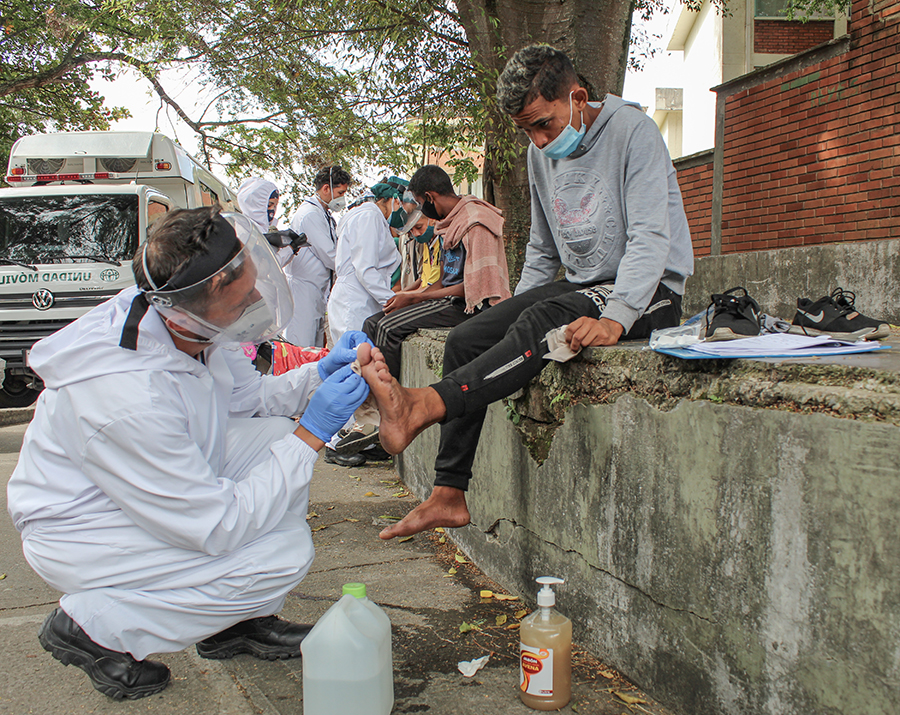 A Venezuelan migrant is examined by a healthcare professional after walking over 195 kilometers from Cúcuta on the border with Venezuela to Bucaramanga in northern Colombia. Thanks to the ongoing efforts of ADRA Colombia and USAID, over 115,000 people have received assistance with medical care, food, and settlements since 2018. [Photograph: ADRA Colombia]
August 9, 2021 | ADRA Colombia Press.
"It was very difficult to leave my family and my life in Venezuela, but the economic situation there was too harsh," said Ana Cecilia Alvarado, a Venezuelan migrant who recently arrived in Colombia in search of a better life. "I was very sick, so I decided to travel to Colombia with my grandson. The journey was extremely difficult, and to get on a bus, we had to jump and push, and be close to people who were hitting and stealing. It was horrible."
There are thousands of Venezuelans like Alvarado who have migrated to Colombia as a result of the economic and political situation. Many in Venezuela do not have a safe place to live or money to buy food or receive medical attention.
According to national government statistics, as of January 31, 2021, there were 1,742,927 Venezuelan migrants living in Colombia, 54 percent of whom live in irregular conditions.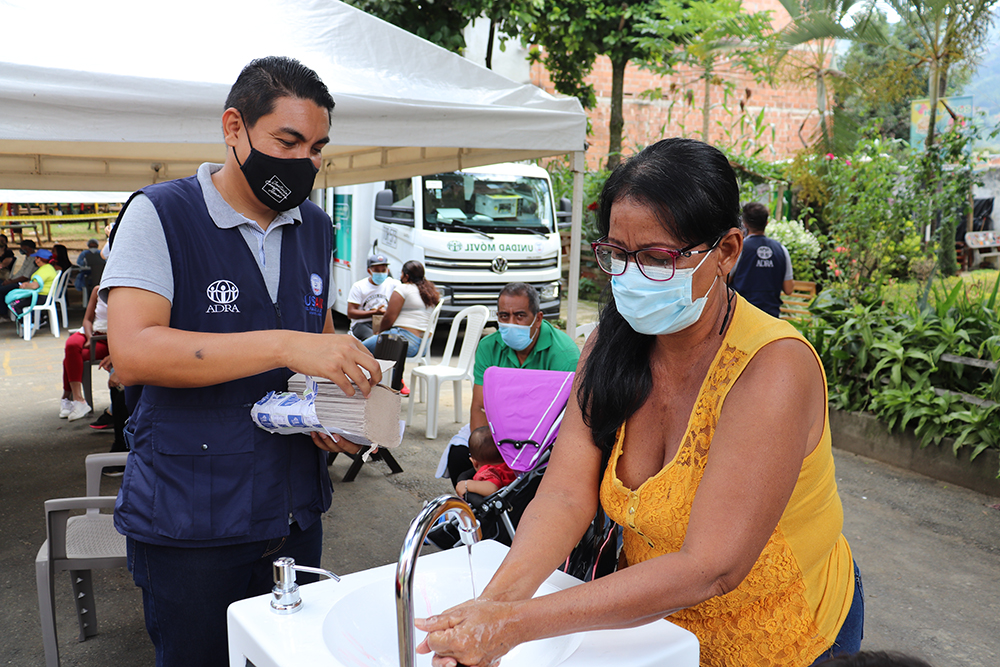 The latest project by ADRA Colombia for Venezuelan migrants offers washing stations in all cities of Bucaramanga and Medellín in northern Colombia. [Photograph: ADRA Colombia]
ADRA Colombia, the Adventist Development and Relief Agency, and the United States Agency for International Development (USAID) have been working in partnership since 2018 to provide services to migrant families. Their latest joint project, called SHAWA (Optimized Health and Wash Activities) for migrants in Colombia, has been providing primary health services in the city of Medellín in Antioquia and Bucaramanga in Santander since May.
"We are grateful to God because we have been able to help so many in these two departments through the justice, love, and compassion we profess at ADRA Colombia," said Jair Flórez, director of ADRA Colombia. "We are glad to be part of those who are benefiting, bringing hope to those who, for various reasons today, do not have health coverage. Thanks to this project, they can receive medical consultations, basic laboratory tests, and medications."
So far, over 114,532 people have benefited from the joint work of ADRA Colombia and USAID through health services, water, personal hygiene kits, and settlements throughout the country.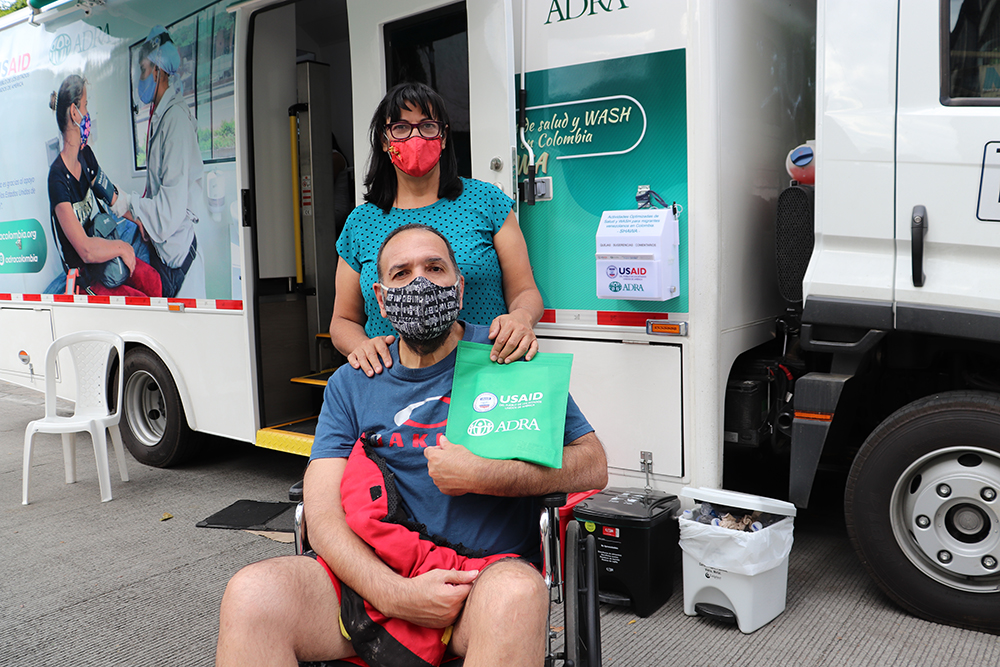 A Venezuelan couple displays their bag of items after receiving medical care thanks to the mobile medical unit of ADRA and USAID in northern Colombia. [Photograph: ADRA Colombia]
The SHAWA project, which is the third phase of an ongoing partnership, consists of two mobile units equipped with a generator, a medical office, space for medications, a bathroom, an elevator for disabled individuals, and wheelchairs provided by the Ministry of Transport.
Like Alvarado, hundreds of Venezuelans have benefited from the program with medical care, medications, laboratory analysis authorizations, and training on sexual and reproductive health, among others.
"When I arrived in Medellín, my condition worsened, and a friend told me about ADRA when I had already lost all hope," explained Alvarado. "ADRA gave me hope to live, and thanks to their care and treatment, my health has been improving, and right now, my illness is under control," she expressed. She is one of 69,700 people who have benefited from the SHAWA project since it started in May.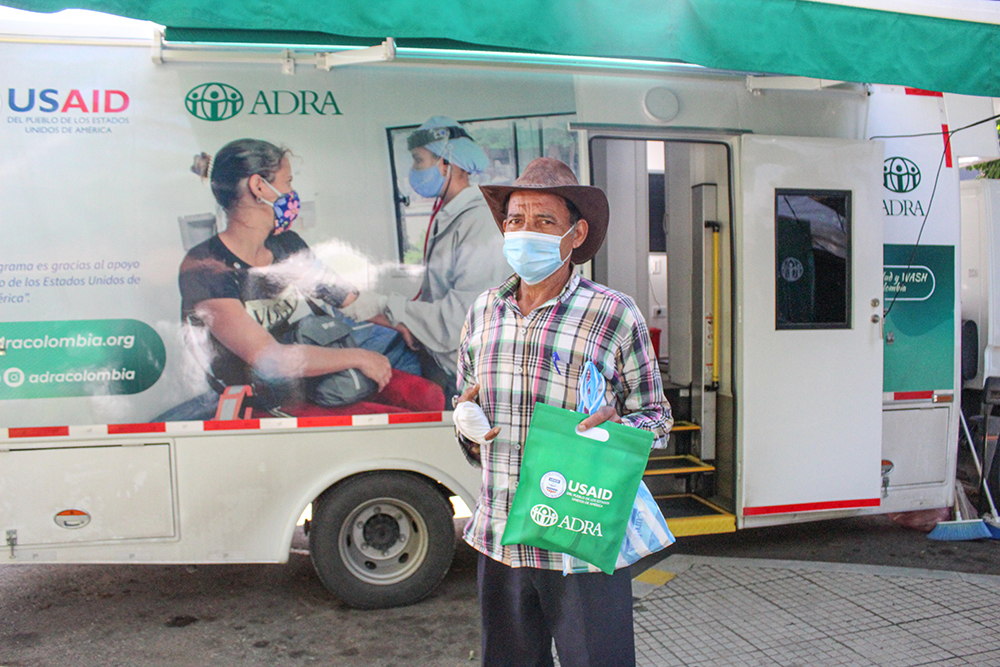 A Venezuelan man poses in front of the mobile medical unit during a recent intervention in northern Colombia. [Photograph: ADRA Colombia]
ADRA Colombia has been committed to programs that help Venezuelan migrants since many began their journey through Latin American countries, but especially in Colombia, where the highest number of arrivals entered, said Sandra Rincón, director of ADRA Colombia's program.
"We have been conducting periodic assessments since 2018 to better understand the social emergency situation in the country, and we have worked to assist the vulnerable when they enter the country," Rincón explained.
During a visit to one of the mobile units, Germán Marín, the health director of the Ministry of Health in the Government Secretariat of Santander, commended ADRA Colombia for their ongoing project of helping the most vulnerable. "We see that the medical staff and leaders working on the SHAWA project are very committed, and we want to extend our appreciation to this group for the work they have been carrying out in Barrancabermeja," said Marín.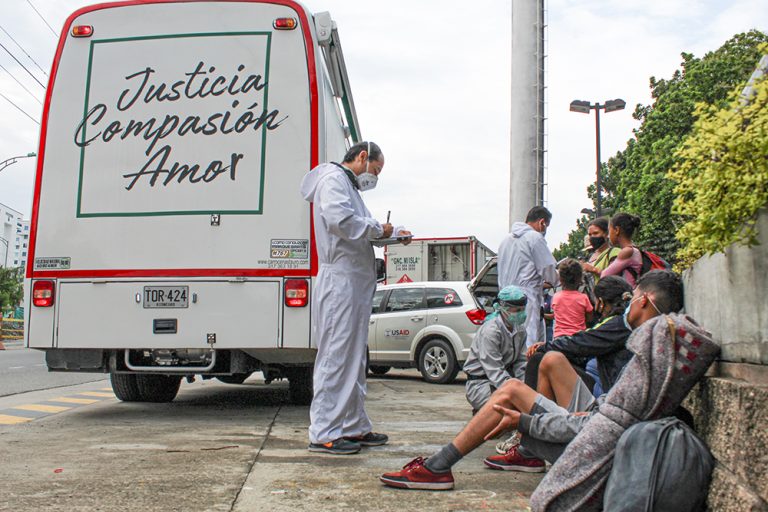 A healthcare professional begins to register Venezuelan migrants who are resting after a long walk from Venezuela to Bucaramanga. [Photograph: ADRA Colombia]
The leaders of ADRA Colombia stated that the project will continue for months.