ANGELS OF GOD IN THE MIDST OF TRIAL
With chronic renal insufficiency, Yoandry's situation was far from easy, and he needed to take care of his two-year-old child and the baby on the way.
Bucaramanga, October 2022 | ADRA Colombia Press.
The economic situation and Yoandry's health had worsened, and they did not have the resources to cover food, prenatal check-ups, and the treatment needed for chronic renal insufficiency. That's why Yoandry made the decision to migrate from Venezuela to Colombia, with the sadness of leaving her mother and siblings behind. From Táchira, her husband embarked on the journey to San Gil, Colombia, gathering resources so that Yoandry could travel by bus.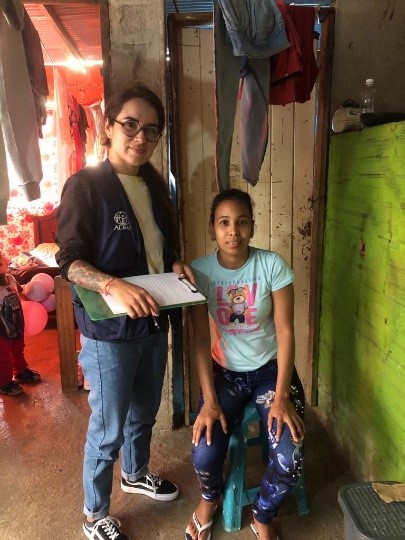 Interview with Yoandry, ADRA Bucaramanga, October 2022. [Photograph: ADRA Colombia]
Yoandry narrates, "I was in a critical state, I didn't have treatment for my illness, there was no prenatal care, no medicine, no food, there was nothing." She was 5 months pregnant when she arrived in San Gil. Due to the lack of money for food and her deteriorating health, she decided to undertake a new journey on foot with her husband to Bucaramanga, hoping to find medical care and settle there.
When they arrived in the city, the main difficulty was finding a source of income and a place to live. Yoandry couldn't work due to her advanced illness, high-risk pregnancy, and the care of her 2-year-old child. Her husband had to work cleaning car windows to meet the household needs.
"It has been very difficult to get here. I was hospitalized upon arriving in Bucaramanga. I almost lost my child; he was born premature, and my other child was underweight. In Venezuela, we didn't have opportunities. We took the risk to give our children a better life and for my health," Yoandry recounted.
Not long after, an acquaintance told her about the SASVEN project implemented by ADRA. Her household was registered, and she received information about the humanitarian services.
She tells us, "Everything I have received from ADRA has been excellent. My older son had malnutrition grade 2, and thanks to the food assistance and nutritional care, he received his treatment, has grown, and gained weight. My medications and medical check-ups, everything has been excellent." Her household received food assistance for 4 months provided by ADRA Colombia with the support of ADRA International. They received nutritional guidance to improve their quality of life and learned how to use money more efficiently when purchasing food. The whole family attends medical consultations where they assess their health status, receive the necessary medications, and Yoandry can have follow-up for her illness.
She gave us a message of gratitude, saying, "ADRA came at the right moment when we needed it the most. Thank you for being angels of God in the midst of our trial."