Adventist Church and ADRA begin assisting Colombian islands devastated by Hurricane Iota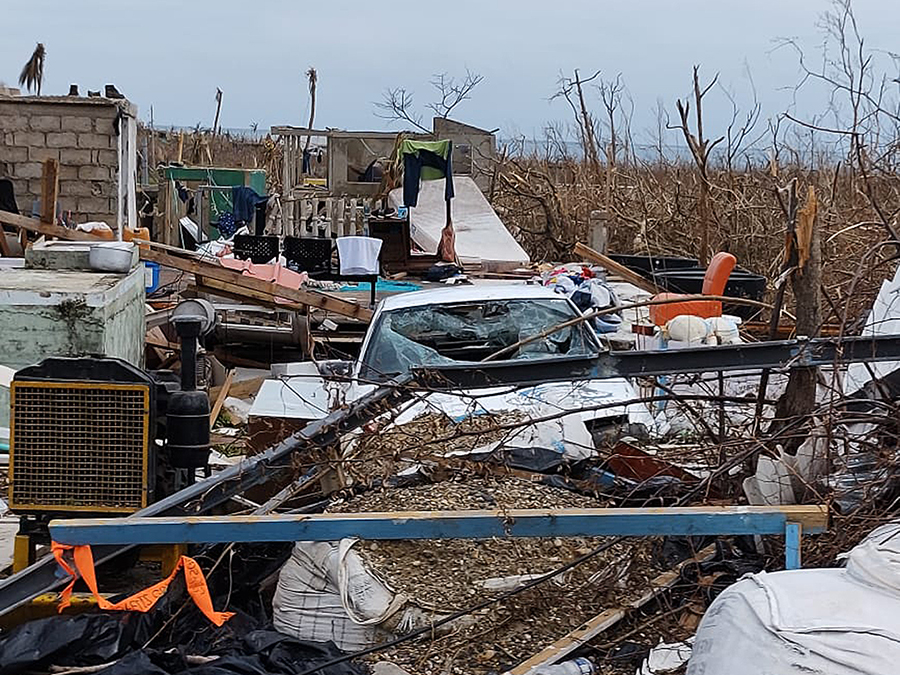 Damage to homes on Providencia Island after Hurricane Iota ravaged the Colombian islands, destroying everything in its path on November 16th. The Category 5 hurricane destroyed the islands and the neighboring island of San Andrés before causing damage in Central America. [Photograph: ADRA Colombia]
November 25, 2020 | ADRA Colombia Press.
November 25, 2020 | Medellin, Colombia | Daniela Arrieta and Inter-American Division News Hurricane Iota swept through the Colombian islands of San Andrés and Providencia on November 16, 2020, with winds exceeding 250 kilometers per hour, toppling power lines and trees, and destroying streets and buildings. The Category 5 storm destroyed 98 percent of the homes on Providencia Island, according to Colombian government officials, leaving residents in need of shelter and basic supplies. One fatality was reported as a result of the storm. Church leaders did not report any deaths among the members, although dozens of families lost everything.
"The most difficult hours were between 3:30 and 7:00 in the morning. It was very devastating, the sound and the shaking were so strong that we didn't think we would survive," said Pastor Adrián Villamizar, leader of the Adventist Church in Providencia. Along with his family, he weathered the storm in their home. The island had never experienced such destruction before, he said.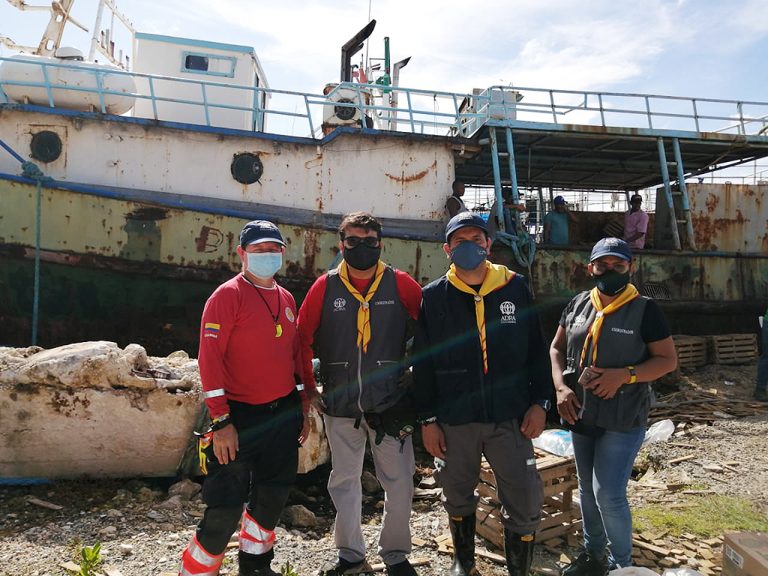 From left to right: José Sepúlveda, member of the GARSA team, and pastors Johnathan Gallego, Magdiel Pinilla, and Jeraldine Sarmiento, from the Colombian Islands Mission, standing in front of the boat that would take them to Providencia to provide assistance on November 20, 2020. [Photograph: ADRA Colombia]
Pastor Jonathan Gallego, president of the Adventist Church in the Colombian Islands Mission based in San Andrés, said that Iota had a lesser impact on San Andrés, but the worst of the storm completely devastated Providencia. "Although some walls are still standing, everything was destroyed," he reported.

The Adventist Development and Relief Agency (ADRA) of Colombia and its GARSA rescue team arrived in San Andrés as soon as possible on November 18 to clear routes, remove debris, and begin helping the displaced, reported Jair Flórez, director of ADRA in Colombia. "The team cleared 33 different areas of the island and stayed there until November 23," he said.
So far, fifty Adventist families have been affected, and three churches have been completely destroyed in Providencia. In San Andrés, there are thirty families with damaged homes, and two churches were destroyed out of the eight Adventist churches that suffered damage.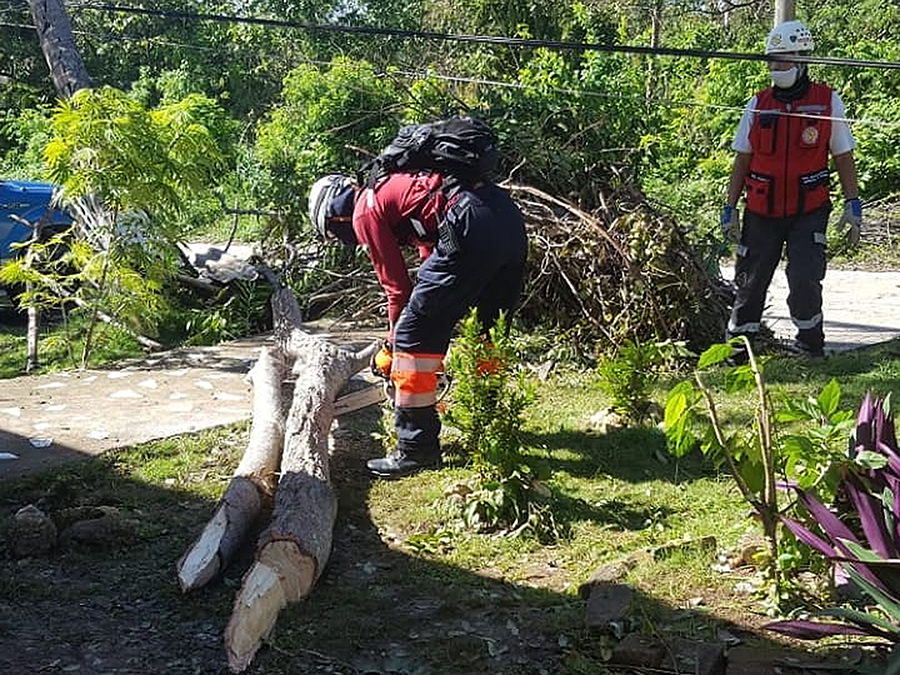 Two members of the church's GARSA rescue team clearing tree debris and rubble on San Andrés Island just after Hurricane Iota destroyed the Colombian Islands on November 16, 2020. [Photograph: ADRA Colombia]
Although there were no communication problems and difficulties in reaching Providencia, the ADRA team traveled to the island to distribute an initial delivery of 300 sets of hygiene items and 40 portable gas stoves on November 20. The ADRA Colombia and Gallego team arrived on a boat with a group of pastors and volunteers to provide assistance in Providencia.
"After an eight-hour boat trip to Providencia, we couldn't disembark because we arrived at night and the authorities didn't allow entry until daylight," explained Gallego. Furthermore, there was no way to reach the port, he added. "I went ahead of the church team in a small boat to the beach and found a church member who is a counselor on the island." He then managed to travel on the member's motorcycle to visit church members on the island that night.
"It was wonderful to see the joy of so many church members who were overwhelmed with tears of joy when they saw us arrive with assistance because they had been without electricity for days and the cell phone towers were down," said Gallego. "We prayed, sang, and listened to miraculous survival stories. They told us they were alive only by the grace of God."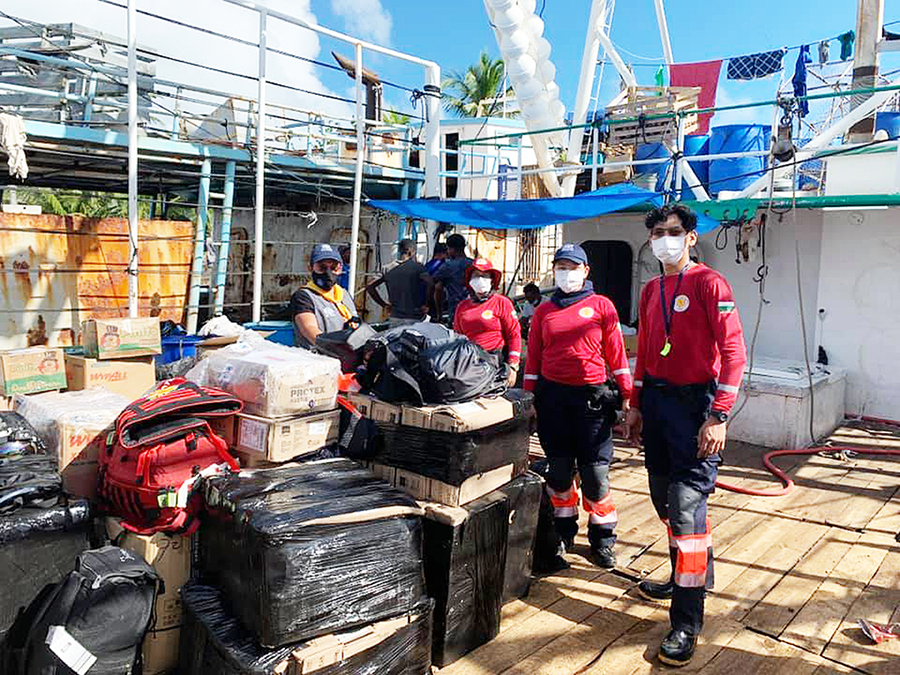 Volunteers from ADRA Colombia pose alongside the relief items on the boat to assist needy families in Providencia on November 20, 2020. [Photograph: ADRA Colombia]
In addition to the humanitarian aid given to church members and the community of Providencia, the rescue team shared forty Bibles and hymnals.

The church and ADRA Colombia will continue to assist families in the coming days and weeks, church leaders said. Next week, they expect to distribute 1,300 sets of hygiene items and 500 portable gas stoves in Providencia.
Although ADRA Colombia has an agreement with Delivering Shipping Line S.A.S., sending items to San Andrés is somewhat complicated because space is limited, said Flórez. "We have opened a new nationwide account to collect funds to help the islands," he said.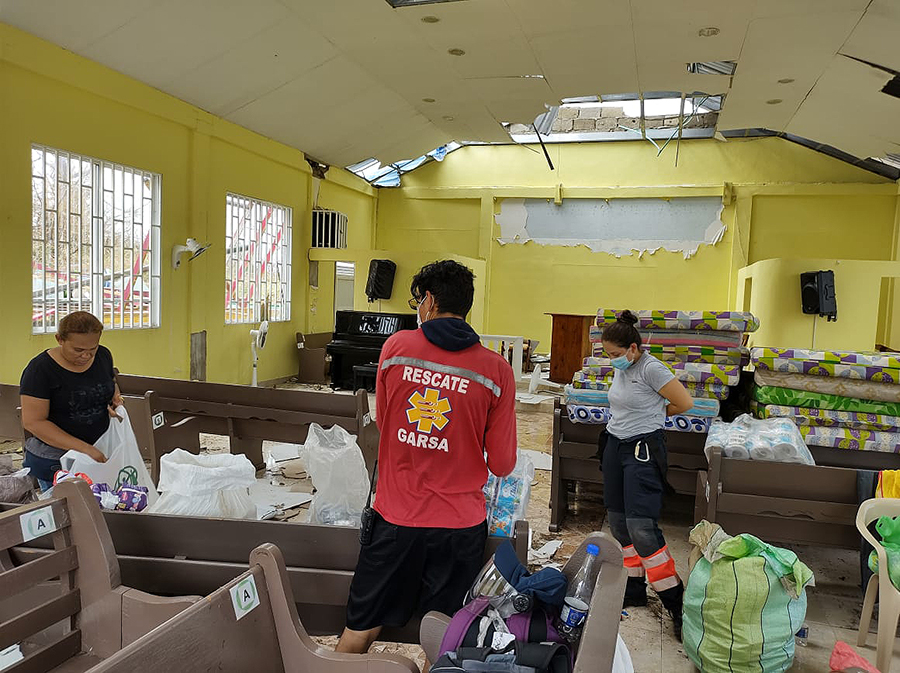 Volunteers from ADRA Colombia sort items at the damaged Central Adventist Church of San Andrés to assist other families on the islands and in Providencia. [Photograph: ADRA Colombia]