ADRA donates computers to local schools in the Colombian islands
August 26, 2021 | ADRA Colombia Press.
Nine months after Hurricane Iota destroyed homes and businesses on the small Colombian islands of San Andrés, Providencia, and Santa Catalina, the Adventist Development and Relief Agency (ADRA) in Colombia continues to provide assistance to those living there. Recently, they donated ninety computers to the Ministry of Education to be used in five schools located on the islands of San Andrés and Providencia.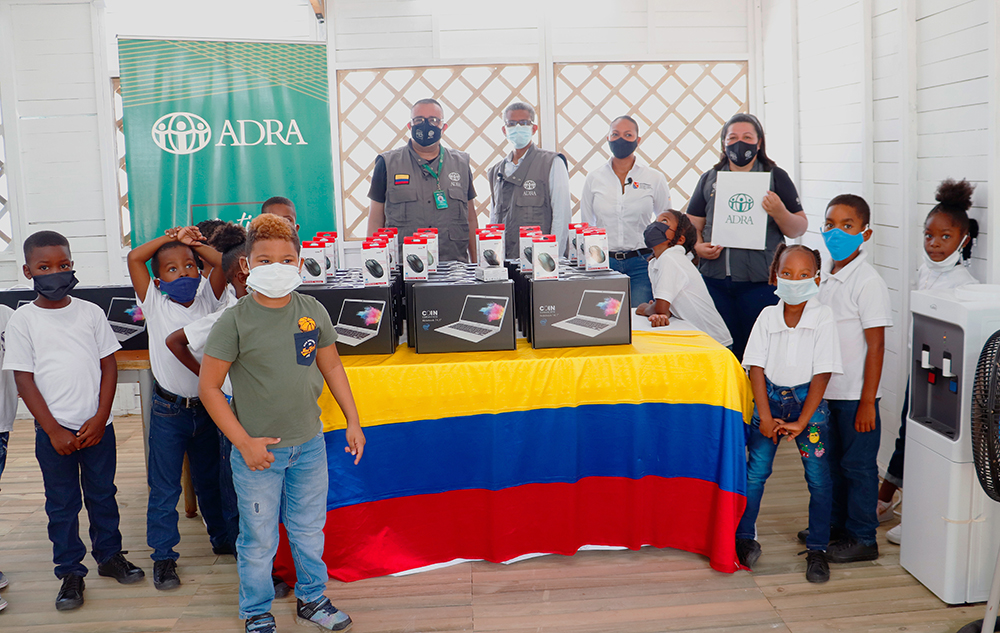 ADRA leaders pose with children for a group photo with new computers that will benefit the Bomboná School on Providencia Island, delivered on July 13, 2021. ADRA Colombia donated one hundred new computers to help the schools that were destroyed on the Colombian islands after Hurricane Iota devastated them in November 2020. [Photograph: ADRA Colombia]
Upon learning that several schools were undergoing reconstruction after Hurricane Iota, ADRA Colombia discovered that many of the schools lacked computers and computer labs, said Jair Flórez, director of ADRA Colombia. The selection of five schools as beneficiaries of the computers was done through the government overseeing the small islands, specifically through the office of Lucila Morales, Minister of Education of Providencia Island.
"We thank ADRA for turning their attention to the students here on Providencia Island with the donation of computers that will be of great use to them," said Morales. "This will strengthen all educational subjects."
The computers will benefit nearly a thousand enrolled children and adolescents in the designated schools, said Flórez. Additionally, the Adventist school in San Andrés received ten new computers from ADRA.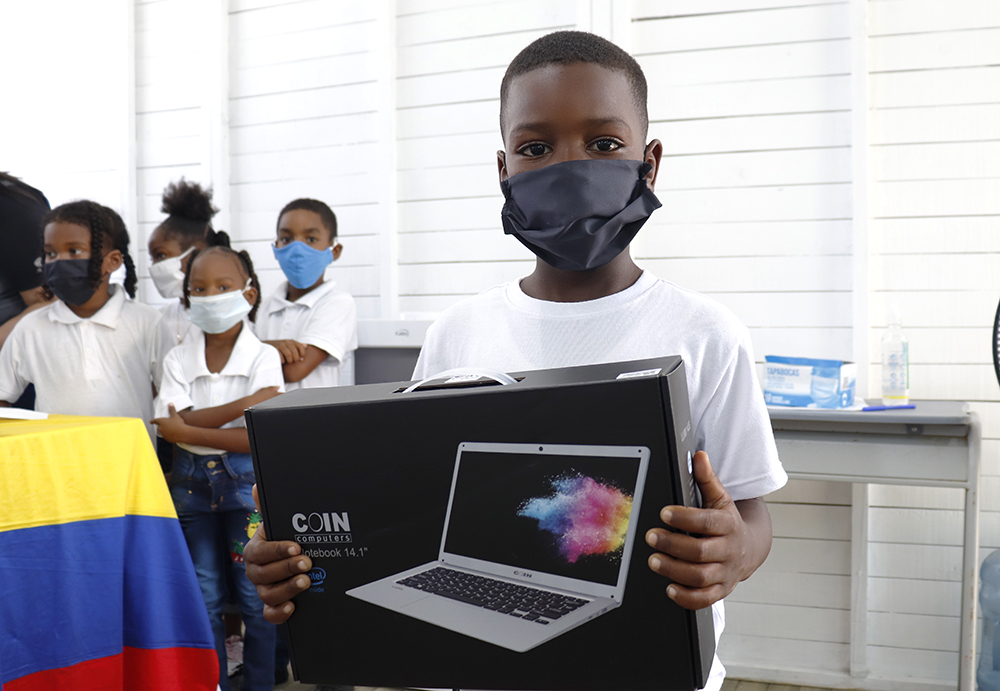 A student from the Bomboná School on Providencia Island holds a new computer donated by ADRA Colombia. [Photograph: ADRA Colombia]
The team from ADRA Colombia and church leaders traveled to San Andrés to distribute the computers on July 13, 2021. "ADRA believes in education, and we are here to deliver these devices that will undoubtedly contribute to the children's educational process with their teachers in the best possible way," said Pastor Edgar Redondo, president of the Adventist Church in the Northern Colombian region.
This initiative, which was named "Computers of Hope," will help students strengthen their reading and computer skills, and ensure that they continue learning in all their academic classes as they grow, said the ADRA leaders. "We want them to feel that Colombia is here to help them and that we are addressing each of their needs," said Flórez.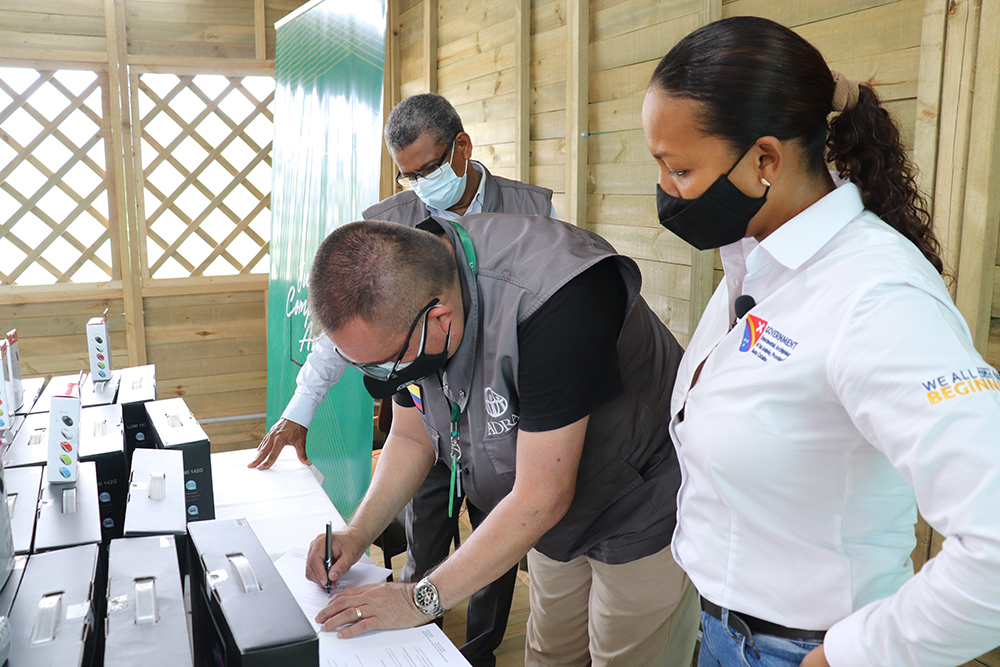 Jair Flórez (left), director of ADRA Colombia, signs a document donating ninety computers to five schools on the Colombian islands, while Lucila Morales (right) from the Ministry of Education looks on and Pastor Edgar Redondo (back), president of the Adventist Church in the Northern Colombian region, at the Junín Educational Institution on July 13, 2021. [Photograph: ADRA Colombia]
Since Hurricane Iota hit the islands of Colombia in November 2020, the Adventist Church and ADRA Colombia have assisted in cleanup efforts and provided food and supplies to dozens of families. Additionally, ADRA sent several tons of humanitarian aid from Puerto Rico to provide emergency shelter for victims and support the reconstruction project in the archipelago.