A LIGHT AT THE END OF THE TUNNEL
"I found a light at the end of the tunnel for my children... thank you very much for giving me hope."
Medellín, May 2023 | ADRA Colombia Press.
Francis supported her family by selling fast food, but due to inflation and price increases in Venezuela, her situation worsened, and she made the decision to migrate to Colombia in 2017. She traveled to Bogota and found work doing cleaning for nearly a year. She then returned to Venezuela and in 2019, she came back to Colombia with her 5-year-old daughter, crossing the border through irregular paths known as "trochas" and managed to reach Cali by hitchhiking.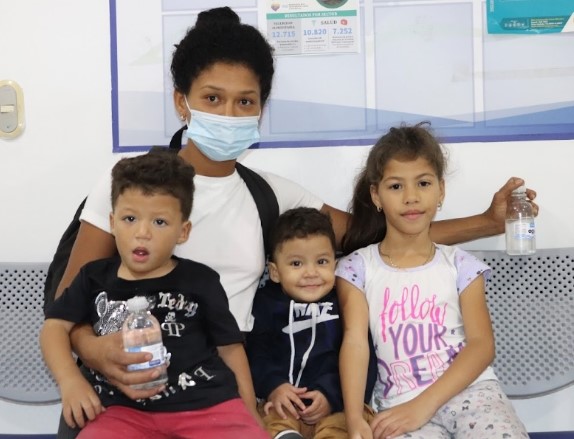 Francis and her children, ADRA - affiliated clinic in Medellin, May 2023. [Photograph: ADRA Colombia]
In late 2020, due to the COVID crisis, Francis and her family migrated to the southern part of the continent. They traveled on foot, asking for help from passing vehicles. She describes crossing borders through trochas, crossing rivers, and walking hundreds of kilometers. She made this journey while pregnant and with her young daughter, but they finally arrived in Lima, Peru, where her twins were born.
Motivated by the "American dream," in 2022, they decided to migrate to the United States in search of a better future. However, Francis was unable to undertake the journey through the Darien jungle, and she remained alone in Medellin, taking care of her children.
The economic situation has been difficult; her main source of income is street vending, and due to her irregular migration status, they have not been able to achieve socioeconomic integration. Francis shares that her greatest need has been the health of her children, especially the twins, who have been experiencing health difficulties since last year and had not received medical attention because they are not affiliated with a health insurance provider (EPS). This is because they have Peruvian nationality and cannot qualify for the Temporary Protection Status (ETPV) program.
Francis lives in a boarding house where she pays for accommodation on a daily basis. While discussing her situation with a neighbor, the neighbor mentioned that her daughter was a beneficiary of ADRA in the health project implemented with the support of ADRA International. Francis was fearful that her Peruvian children would not be able to receive assistance, as she had experienced situations where "only Venezuelans receive free care." However, she went to the IPS Universitaria Adventista, and the ADRA team registered her family. Since November 2022, they have been receiving medical care and basic medications. The twins were also able to undergo the laboratory tests they had needed for some time but couldn't afford. Francis says, "I found a light at the end of the tunnel for my children. Thank you very much for giving me hope."